Newsletter w/c 17th May 2021
We hope everyone has had a great week.The rain has been a pain again this week however the next step on the road to normality begins today!

This Friday we will be continuing to serve outdoors only. At some point we hope to be able to move inside but we are conscious that should we get poor weather then we may not be able to cope!

We have got some plans to hold some club events once restrictions allow and this should include the Euro Football Championships and a beer festival. Once we have plans in place we will let you know.

Don't forget that you can follow us on Facebook, Twitter and Instagram. The links are at the bottom of this email!
Senior Cricket
The 1st XI travelled the short distance to Ellerslie and left with a comprehensive winning draw. The 1s posted a huge 261-4 of 32 overs as Rhys Hayes, Ally Pettit and Travis Holland filled their boots. In reply the hosts were never in the game and limped to 114-9. This Saturday the 1s are at home against Collingham.
The 2nd XI won a thrilling game against Newark R&M at Stamford Road. The 2s posted 181-8 off 40 overs thanks to Joe McLaughlin's 64 and Matt Lyon's late hitting. In reply the visitors fell 1 run short despite being 120-1 with 15 overs remaining. This Saturday the 2s travel to Farndon.
The 3rd XI beat Notts and Arnold III at Adbolton Lane with Ian Huskinson hitting a fine 104. In reply NAACC could only muster 103 with Dom Evans and Dan Sheard doing the business with the ball. This Saturday the 3s are at Clifton Village.
The 4th XI came out second best against Southwell II. Chasing 174 to win the 4s made 109-7 with Danny King making an unbeaten 40. This Saturday the 4s are at home against Coddington & Winthorpe.
The 5th XI played Plumtree on Sunday in their first ever Development Division game. The visitors made 149-5 off 32 overs with the 5th team making 113-8 in reply. The 5ths play Gedling Colliery on Sunday at Stamford Road.
Junior Cricket
The U15s XI have no scheduled games this week.

The U14s played at Wollaton on Thursday and despite restricting the home team to only 60-8 off their allocation the U14s were unable to get over the line. They finished with the same score but all out, meaning that Wollaton won the match on fewer wickets lost. Man of the Match for WBCC was Luke Storrar for his 3-9 bowling return.

The U13s played against Gedling & Sherwood on Wednesday in their first ECB National Cup group game. It was a very close run affair but the 13s prevailed winning by 1 wicket with 7 balls to spare. Man of the Match was Noah for his 24 runs. This week the U13s play Wollaton on Tuesday at Stamford Road.

The U12s play Caythorpe at Adbolton on Thursday.

The U11s play Keyworth on Tuesday at Stamford Road.

The U10s have no scheduled games this week..

The Girls have no scheduled games this week.
Latest Fixture and Results
Meet Our Sponsors
Each week we highlight one of our sponsors and the services that they can offer you!
This week we would like to introduce you to R.E Howard & Sons.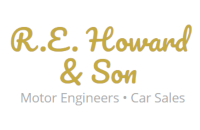 With over 60 years experience in car servicing and repairs, there cannot be many independent garages in Nottingham with such a rich and customer focused history.
Founded by the late Bob Howard in 1946, the business started from lowly beginnings in a two car lock-up on Musters Road in West Bridgford, Nottingham, moving to its present location on Gertrude Road  in the mid 1950s.
The business has flourished, earning a reputation, second to none, for good, honest, reliable service – highly attractive qualities in these demanding business times – and ones which are rewarded by long standing customer loyalty.
Now run by son David – who joined his father at the age of 17 in 1970 – the business has lost none of its accessible, family feel and customers can be sure of a warm welcome by David and his team of mechanics when they visit.
0115 982 2745
0845 4817 865
Email Us contact@rehowardandson.co.uk
If your company would like to advertise with WBCC then please get in touch.